Wedding testimonials about Vann's Valley Event Center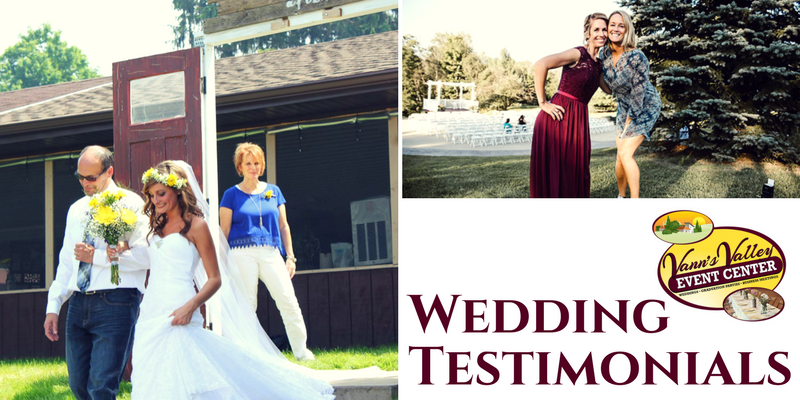 Here are some wedding testimonials from a few of our satisfied clients:
This place is a true gem that does not get enough attention or usage. It is a peaceful, well kept, professionally run DIAMOND. It is a beautiful site by day and so many wonderful extras at night. The family that runs this facility welcomes you like family; they truly care about the weddings and events that take place there. It is a rare and lost art that they do so well there. If you are even thinking about them, please go visit. Take a look around. I am thrilled that we chose Vann's Valley Event Center. It has started our forever off on the right foot with so many priceless memories that we will always have. I am forever grateful.  -Breanna Stayskal
We couldn't have picked a better place for our wedding. We had our rehearsal dinner, ceremony, and reception at Vann's Valley and everything was just perfect! Amber and her family are the best. Very easy to work with. My husband and I highly recommend Vann's Valley Event Center!  -Jessica Lahiff
Vann's Valley is beautiful in every way! We had a June wedding and the grounds were great, there are several items that were provided for decoration, and the people are absolutely incredible to work with. It's a good combination between outdoor/relaxed/rustic and yet still isn't a barn. Would highly recommend!  -Alex Green
This outdoor venue is beautiful for ceremony and reception both. There are many photo opportunities on the acres of property that are available to you. The owners are wonderful to work with and are very helpful. I highly recommend using Vann's Valley Event Center.  -Nichole Fisher
Vann's Valley was AMAZING! It's a gorgeous venue with very reasonable prices. The staff was so helpful with any questions, concerns, or help we needed. They were very timely answering all our emails any time we contacted them. I highly recommend them to everyone!  -Tabatha Gritt
My husband and I got married there a week ago from yesterday and it was amazing!! We did our ceremony outdoors and had a reception filled with 240 people. Amber was so pleasant to work with and really went above and beyond with the communication to pull everything together for our big day. They have beautiful grounds for pictures with the wedding party and you can even rent a wagon pulled by a tractor to haul you around to make it easier to get to cool spots for the pics… the family that owns it, they all help out making sure everything is how you want it for your day!
I highly recommend this location for a nice getaway venue away from Grand Rapids but not too far…only 30 minutes from downtown so it's easy for guests to get there. There is plenty of parking and you can be as loud as you want because you are a little bit out in the boonies!! (in a good way)  -Kelly Noteboom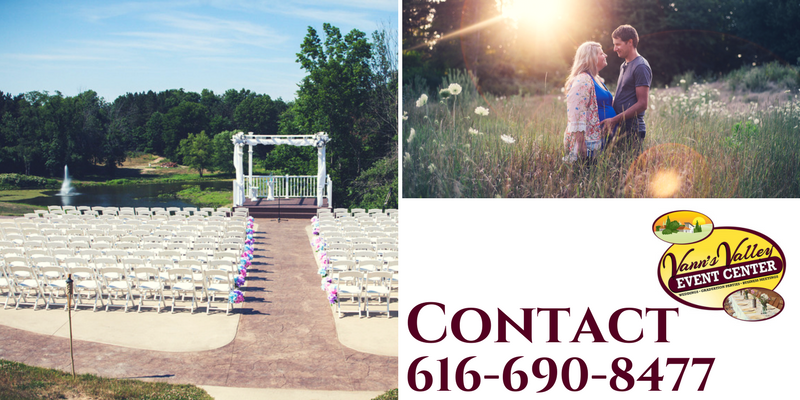 For more info, questions, reservations, schedule a showing, or give us your own wedding testimonial, please contact us online or call 616-690-8477.
Please let us know how your wedding went and send us your own Wedding Testimonials about Vann's Valley Event Center.  Connect with Vann's Valley on Facebook 🙂